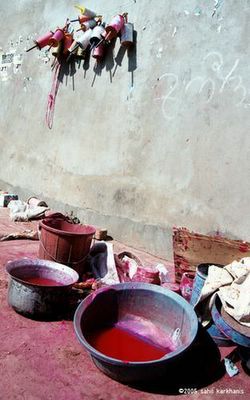 Uttarayan
is the festival of kites, celebrated in early January throughout India (under various names, depending on the region) to celebrate the change of season. Winter gives way to spring, the direction of the wind changes and suddenly the sky is awash with kites.
This colourful time of the year is a favourite for photographers who want to capture the ebulient spirit and the
joi de vivre
of Uttarayan. I have tried it on occasion in the past. The colourful, and fanciful, kites; the blaring music; clear blue skies and pleasant weather; people- old and new alike, wallowing in the fun that`s so intrinsic to the festival. It`s the perfect time of the year. This year, for a change, I thought it would be a good idea to document the saga of the
manja
- the sharded yarn that`s used to fly the kite, rather than the colourful kites or the mood of the moment.
I`d love to have your comments.
_____
Come Uttarayan and the roadsides are dotted with
manja
makers. Impromptu roadside set-ups to manufacture manja- the glass shard coated yarn that`s used to fly the kite. The mid-air duels between kite fliers is a sight worth watching with each trying to outfly the other- the winner is the kite that stays flying; the loser, the one with just a cut string in his hand, watching his kite floating away.
Bright coloured dye, glass shards, glue and, of course, yarn. The raw materials that go into making the spools and spools of manja that are consumed during this two day festival.
_____
Nikon F75, 28-110mm
Fuji 100 ISO
2005, Ahmedabad, India