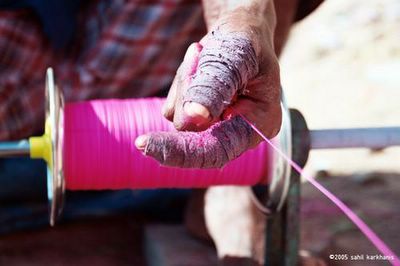 Spooling it all in... All that pristine-white yarn transformed by dint of hard work into fuschia coloured glass-shard coated lethal `manja` needs to be spooled on to wooden, metal or, increasingly nowadays, tacky-plastic `firkis` before it can be sold... The colourful firkis serve as point-of-purchase and product rolled into one... It`s a sight to see, all that colour by the roadside...
But these rag-covered, cut and bruised hands tell the real story behind the `manja`... And tell it only too well, I think...
_____
Nikon F75, 28-110mm
Fuji 100 ISO
2005, Ahmedabad, India
Read more »

Posted by

Sahil
0 comments
[Edit]
Entry for Moody Monday
Sportive:
Archaic
. Amorous or wanton
[/Edit]______
The step well at
Patan
, about 130 kilometers north of Ahmedabad, is known as
Rani ki Vaav
, or `The Queen`s Well`. It consists of a series of steps descending from ground level, in seven tiers, to a natural spring at the bottom.
The historic town of Patan served as the capital of the state of Gujarat for around 600 years, between the 8th and 14th centuries AD, under the
Solanki
kings. The step well at Patan served as the private bathing pool of
Rani Udayamati
, the consort of
King Bhimadeva
, the most illustrious of the Solanki kings.
The walls and pillars, all the way down to the seventh, and lowest, level are adorned with sculptures of gods, godesses and mythological characters from the Hindu pantheon. The coquettish
Apsara
(or celestial nymph) revelling in her vanity is a recurring motif in a lot of Hindu architecture of that period.
_____
Nikon F75, 28-110mm
Fuji 400 ISO
2004, Patan, North Gujarat, India
Read more »

Posted by

Sahil
0 comments
Saturday, January 01, 2005